Many choices
Barnard students have a variety of opportunities to conduct neuroscience research. While a few opportunities are restricted to NSB majors, many others are open to all students who want to explore neuroscience.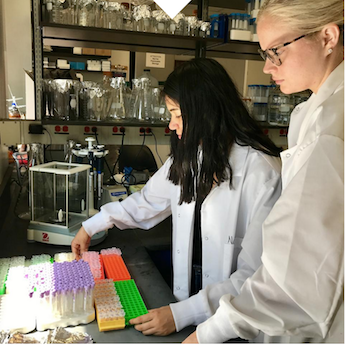 Independent Study. For-credit, supervised research available in labs in our department or outside. For more information visit here. 
Senior Thesis. A year-long program offered to NSB majors, which involves the completion of an independent research project and the participation in the senior seminar.  
Summer Research Institute (SRI). This program sponsors summer research projects that students conduct under the guidance of a faculty mentor. Through this program students receive summer funding and subsidized campus housing. For more information about SRI, visit Barnard's website.
Internship opportunities. Fellowships for conducting neuroscience research during the summer are offered in a number of institutions across the country, as reported on this site.   
Joining a lab. Participating in lab meetings or helping with a research project represents valid experiences for learning about a lab and understanding if a lab fits your interests well. 

Off campus jobs may be unpaid. Barnard (not Columbia) jobs are all paid according to internal Barnard regulations.
Research in Barnard NSB labs
While looking for research opportunities in neuroscience, you may find it useful to know about the research of the faculty members of Barnard NSB. Their research interests are described here.
Beyond Barnard NSB
You can take part in the research opportunities available to Barnard students in one of the many labs affiliated to the Departments of Psychology and Biology at Barnard, the Departments of Psychology and Biological Sciences at Columbia University, the Zuckerman Institute, CU Medical Campus, NY State Psychiatric Institute, and nearby universities, including NYU, Rockefeller University and Icahn School of Medicine at Mount Sinai. Labs joined by present and past Barnard students are listed on the page Lab Opportunities.