Many choices
Barnard students have a variety of opportunities to conduct neuroscience research. While a few opportunities are restricted to NSB majors, many others are open to all students who want to explore neuroscience.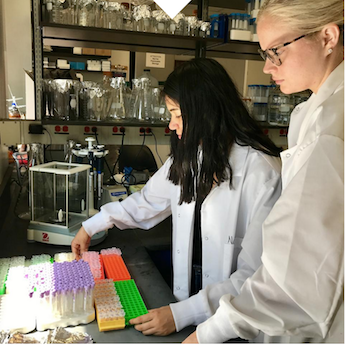 Independent Study. For-credit, supervised research available in labs in our department or outside. For more information visit here. 
Senior Thesis. A year-long program offered to NSB majors, which involves the completion of an independent research project and the participation in the senior seminar.  
Summer Research Institute (SRI). This program sponsors summer research projects that students conduct under the guidance of a faculty mentor. Through this program students receive summer funding and subsidized campus housing. For more information about SRI, visit Barnard's website. Opportunities through the NSB Department can be found here.
Internship opportunities. Fellowships for conducting neuroscience research during the summer are offered in a number of institutions across the country, as reported on this site.   
Joining a lab. Participating in lab meetings or helping with a research project represents valid experiences for learning about a lab and understanding if a lab fits your interests well. 

Off campus jobs may be unpaid. Barnard (not Columbia) jobs are all paid according to internal Barnard regulations.
Research in Barnard NSB labs
While looking for research opportunities in neuroscience, you may find it useful to know about the research of the faculty members of Barnard NSB. Here is a brief description of their research interests.
Peter Balsam is exploring how animals learn about time and use it to guide behavior. He also studies the neural mechanisms that underlie this capacity.
Elizabeth Bauer is investigating the neurophysiological underpinnings of emotions and memory.
BJ Casey is exploring neurobiological changes during the extended period of adolescence related to emotion and cognition and their implication for justice policy. 
Maria de la Paz Fernandez researches the neural mechanisms underlying aggressive behavior and territoriality, and the relation between the circadian clock and social behaviors.
John Glendinning is examining how input from different chemosensory systems (taste, tactile, odor and viscerosensory) modulates feeding responses of animals.
Gabrielle Gutierrez creates computational models to understand how the properties of individual neurons affect, for example, the retina's ability to transmit high-fidelity visual information, or a motor circuit to produce coordinated rhythmic movement, or a neural circuit to adapt to changing inputs. 
Russell Romeo focuses on how gonadal sex hormones and adrenal stress hormones influence the pubertal maturation of the nervous system and behavior. 
Rae Silver is examining hormonal control of reproductive behavior and circadian rhythms in behavior. 
Alex White is examining visual perception, attention, reading, and cognitive development.
Beyond Barnard NSB
You can take part in the research opportunities available to Barnard students in one of the many neuroscience labs affiliated to Barnard departments, Columbia University or other institutions in New York. Labs joined by present and past Barnard students are listed on the page Lab Opportunities.